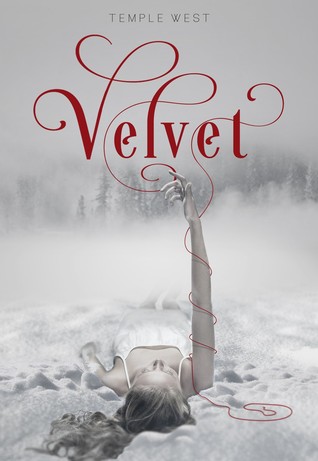 Velvet by Temple West
My rating: 5 of 5 stars
Velvet by Temple West is the first book in a young adult, paranormal romance trilogy. Our heroine, Caitlin Holte, is a spirited, talented teenager going through some major pain. She's lost both of her parents and is living with relatives that are practically strangers to her. If that weren't enough, her emotional turmoil has attracted the attention of a demon who wants to claim her for his own evil deeds. All of this brings Adrian into the picture, a 19-year-old, local vampire. He has been appointed as her personal bodyguard and is happy to do everything he can to help keep Caitlin safe.
Due to the minefield that is Young Adult Vampire Romance, I thought I'd format this review as a bit of a guide to help other readers like myself.
To those who enjoyed Twilight and/or Vampire Academy – you will most definitely enjoy this book!
Velvet does start out with a bunch of Twilightish plot devices – Caitlin was best friends with her mom but had to move away to a tiny, secluded town to live with family that she doesn't like. There's a mysterious, gorgeous vampire boy at school who ignored everyone until Caitlin came along, etc. That being said, there are also TONS of differences, most of which are centered on Caitlin and Adrian as characters. Others center on the vampire lore and the bulk of the plot. Regardless, this book hooks you in with its swoony, giggly moments that paranormal romance lovers will devour.
"Every moment I spend with you is stolen time, and I don't care. I will never have someone like you again. I will protect you with my life, I will keep you safe from my father–but what truly terrifies me is the thought that, when this is all over, you won't remember me at all."
To those who thought Bella was too weak and Edward was too domineering – you will most definitely enjoy this book!
This is NOT Bella and Edward's story reincarnate! Caitlin is full of emotions and she doesn't shy away from any of them, she just feels. She has a sharp, snarky personality that makes for a highly entertaining read. I never felt like she was a wilting flower, bystander, or sacrificial lamb. Her spunk actually reminded me a lot of Rose from Vampire Academy.
"Why would I fall in love with you? You're just a hot, closet-nerd vampire with a bazillion dollars and a Harley. There's absolutely nothing attractive about you."
Then there's Adrian. One huge deviation from the vampire-love norm is that he's only one year older than Caitlin, in both age and appearance. Adrian is supernaturally handsome and strong, but he isn't all broody and dark, and he doesn't have decades of extra life experience that put him on a wisdom pedestal. He's just quiet, largely because of limited interactions with average people. He did have his dick moments, but they arose from his own internal battles. Caitlin and Adrian are BOTH teenagers who are doing the best they can with the cards they've been dealt. They build a wonderful friendship and love that I can't wait to read more about. All in all: less emo stalking, more quirky antics.
To those who are OBSESSED with Twilight – you'll most likely obsessively love or hate this book. It's too close to tell if it'll become your new obsession or if you'll want to banish it to the flaming pits of hell 😉
To those who have never read any books in this sub-genre – Here is a good one to break that streak for! Velvet had me at the first sentence, with:
"By the suits and ties of Tim Gunn, I swear I will hunt you down and eat you for breakfast."
This was a really fun read all around and would be a great way to jump into the YA Vampire Romance world.
To those who are sick to death of vampire love stories and never want to read another EVER AGAIN – you should probably avoid this one 😉
One final note: This was released just over a month ago in May, and it will likely be at least another year before book two comes out. I didn't realize this until 120 pages in when I went on Amazon to check out the Kindle price for the whole trilogy. I may or may not have had a minor heart attack when I realized I'd need to wait TWO YEARS to reach the grand finale.
See my review on Goodreads for Some Particulars