I saw a Rainbow book tag on Wordsmaiden, and then found another on Books, Biscuits, & Tea.  This seems like the perfect way to celebrate some Pride since I can't attend the Seattle Pride Parade in person this year.  I hope everyone is having a fabulous and loving day!
Since almost all of my TBR books are on my Kindle, I went with pretty basic Rainbow Spines criteria and picked a wide variety of books I've enjoyed over the years. For more info about a book, click on its cover photo for a Goodreads link.
RED: The Lost Dogs by Jim Gorant
In college, I had a habit of browsing the school bookstore whenever I felt oppressively stressed. This led to many purchases that I probably wouldn't have gravitated towards under different circumstances. To this day, I'm convinced that this practice helped me survive the four years it took to get my degree, as well as introducing me to several books that I will never forget.  The Lost Dogs is one of those books.
This is the true story of the rehabilitation of dozens of dogs kept for underground dog fighting, and as the book's subtitle describes, "Their Tale of Rescue and Redemption." I picked this up because I missed my own family dog dearly, and because I wanted to read a story about animals-in-need being saved. This story certainly provides that, as well as a fascinating perspective on the hand-working people who fight for domestic animal rights and rehabilitation.
ORANGE: Grimm's Fairy Tales, Barnes & Nobles Classics Edition
As it turns out, this was also one of my college "just because" purchases. I had been studying German for several years when I saw this and realized I'd never read most of these fairy tales (and none more accurate than a Disney adaptation). While I didn't make it through all of the stories, I have a lasting soft spot for this edition.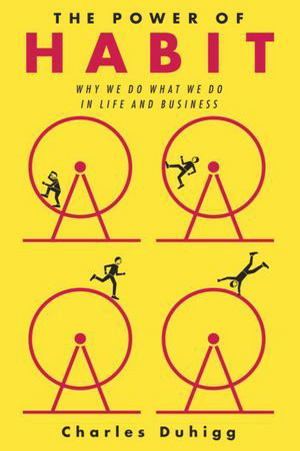 YELLOW: The Power of Habit by Charles Duhigg
I first listened to this as an audio book; I'd checked it out from the library as something to listen to while walking the dog. I'm really glad I did, because this is a fascinating behavioral sciences read! Aside from diving into the biology of habits in an approachable way, it also touches on several real world examples of how individuals and companies use habits to accomplish incredible things. If you are a bit of a science geek or enjoy quirky non-fiction stories, I'd recommend picking this one up!
GREEN: Pride & Prejudice, Marvel Adaptation
I have to confess, green is my most limited color for this tag with my bookcase only having two green spines.  On top of that, both of these books are versions of Pride and Prejudice – one being traditional and one a graphic novel. It worked out well, though, because I love Pride and Prejudice in almost all forms. My first introduction to it was, of course, while watching Wishbone as a child in the 1990s. I saw the infamous BBC miniseries for the first time in college and it really hooked me! I read the original itself for the first time in my early twenties.
When I learned about these Marvel graphic novel adaptations, I was super excited! I've only read a handful of graphic novels and manga, so I don't really feel confident in giving this one a rating or thorough review, but the story is timeless. I love a good Regency Romance 🙂
BLUE: Trixie Belden and the Secret of the Mansion by Julie Campbell
Trixie Belden is the one of the first series' that I read and LOVED as a child. I'm pretty sure I remember binge reading them as a sixth grader. My mom had a lovely collection of the first ten books, or so, from when she was a girl, and I found them on a shelf with all of her vintage Nancy Drew novels. While I never finished the series (there are over 50 books, after all), I have read this first one several times. As a kid, I loved that Trixie was clever and driven, and, at the time, this series was closer to my reading level, being somewhere in between Babysitters Club and Nancy Drew.
PURPLE: Until I Die by Amy Plum
Until I Die is the perfect book to finish off this tag. This is the second book in Amy Plum's Revenants trilogy, one that I will readily credit with reminding me of my love for reading. I had just starting going back to school full time, involving a frustratingly long bus commute each way. I was used to finding the occasional audio book for dog walking, so I figured I'd give that a try for the daily bus ride. I am so, SO glad I did! Revenants was one of the first ones I checked out and I was a goner within the first few chapters. My bus ride, and the rest of my free time, hasn't been the same since.
*****
While I can't take credit for the original idea, I think this is a really fun tag and a great way to spread the love – for books and especially people of all walks of life! If this appeals to you like it did to me, by all means, make some Rainbow Spines!