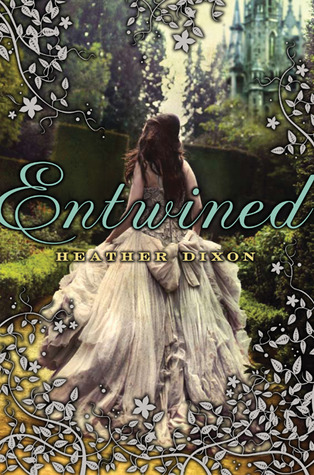 My rating: 5 of 5 stars
Entwined by Heather Dixon is a wonderful young adult fairy tale that is loosely based on The Twelve Dancing Princesses by the Brothers Grimm. It does indeed tell the story of twelve sisters (all princesses) who love to dance. The book is set in a rickety old castle, owned by a beloved but poor king. The castle is full of latent magic that has lingered for over two hundred years from the reign of the evil High King D'Eathe.
If you are a fan of fairy tales, you will LOVE this book! My middle school-aged self would have devoured this story over and over again. Throughout the read I kept thinking of how well this would look next to Ella Enchanted on my Middle Grade/Young Adult shelf.
"I sometimes wonder if the King is, you know, clever. Not like us, of course. But clever in a quieter sort of way."
Like many others have said, this story is all about the sisters. They are each unique and lively in their own ways, making the story come alive. Despite their differences, it is obvious that they love each other dearly, and they are always looking out for one another. Their interactions and the magic of the story blend together excellently to tell a fantastical story that also explores the importance of family.
Another aspect I really appreciated was that very few, if any, of the characters were strictly black and white in terms of "good and evil" or "right and wrong." This is a bit of a change from Disney-style fairy tales and I loved it. Even Azalea, our main protagonist, has significant character flaws and makes mistakes despite always trying her best. The princesses also had plenty of sass to go around, and refused to be bullied or manhandled. Thank goodness for that!
What I loved the most: To be honest, my favorite character was Lord Teddy, one of the side characters and a potential suitor of the princesses. He was so lovingly over-the-top and good-natured. It is simply impossible for me not to love someone who thinks the love of his life is: "a run-a-loop in a croquet game, raspberry jam on toast, cadmium red in a paint set…"
All in all, this is one of those books that I hope I get to share with my kids someday. I'm excited to read more from Heather Dixon, including Illusionarium, which is also in my library queue.
See my review on Goodreads for Some Particulars