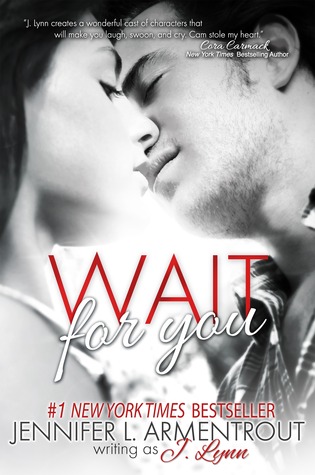 My rating: 2.5 of 5 stars (it was okay)
NOTE:  This review is for a book with mature content and sexy times!
Wait for You by J. Lynn is the first book in the Wait for You series, a New Adult/Contemporary Romance series with each book focusing on different characters from the same group of friends. This first in series tells the story of Avery Morgansten and Cam Hamilton, both college students with some dark past experiences that continue to haunt them.
If you like heavy romances with an emotionally damaged leading lady and a goofy man whose patience and perseverance is too good to be true, you will love this book!
Trigger Warning: I'm going to be right up front with this one and throw out a trigger warning for rape, bullying, and self-harm. While the vast majority of these traumatic events happen in the past, Avery is still living with her experiences every day, and her past is the real Main Character here.
I started out really enjoying this book. It has one of those stories that is really ABOUT the relationship between the hero and heroine. It was easy to empathize with Avery and Cam's flirtatious banter and their quickly growing friendship. Sometimes, living vicariously through a book relationship is the PERFECT remedy for the stress of real life, and the beginning of this book fit the bill wonderfully.
"I'm serious about you, Avery. If you want me for real, you have me."
I could go on and on about Cam, for those of you who are in the market for a new book boyfriend, but I think I'll leave most of the discoveries for you to experience firsthand. Let's just say that he's a truly wonderful person with superhuman perseverance and the body of a soccer god.
Unfortunately (and despite my love for Cam) as the story progressed I began to feel bogged down by a few things, including Avery's past. Her experiences were tragic, and it wasn't surprising that they inflicted some lasting emotional damage. To avoid being too spoiler-y, I'll just say that as the relationship push-and-pull continued, I became more and more baffled by Avery's decisions. Granted, I've never been in her shoes, so I can't say how I would behave. Wondering about this did remove me from the story from time to time, though, and usually during an intense plot point.
Another element that baffled me was what I'm going to call the "fade to black" moments. These are moments when an intriguing scene reaches a climax of some kind and then is abruptly ended by a section break or chapter change. Fade to black moments can be essential to a story in a variety of ways, but there were at least four times in this book where I longed to know what transpired between Cam and Avery in the immediate aftermath. Each of those times detracted a little bit from my overall enjoyment of the story.
Finally, the biggest regret I have about Wait for You is that there wasn't more backstory on Avery's dancing. This is such an intriguing part of her character that was unrelated to her past trauma, and I think it could have provided a great opportunity for a few lighter moments to break up the heaviness of the story.
I haven't fully decided on whether or not to continue with the series. I really liked the side characters and the writing was easy to read, especially the natural dialogue. I think I'll give it another try with Be with Me, though the heroine in that one also has a trigger-warning-worthy past…
See my review on Goodreads for Some Particulars, including a steam rating!