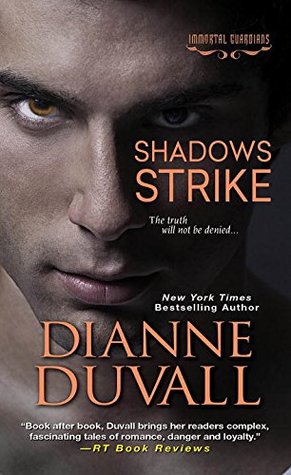 Shadows Strike by Dianne Duvall
My rating: 4.5 of 5 stars
NOTE:  This review is for a book with mature content and sexy times!
Shadows Strike by Dianne Duvall is the sixth book in the Immortal Guardians series. This one focuses on Ethan, a younger Immortal with about a century under his belt, and Heather, a Gifted One with telepathy. If you haven't read the preceding books, please do!
The series starts with Darkness Dawns, and if you love paranormal romance and warmhearted characters, this one is for you!
As usual with Duvall's books, I raced through it. I love her approach to the "immortal warriors" sub-genre, as she depicts men and women who are badass AND considerate. Not to mention that their alpha nature is not used as an excuse to behave like assholes. Ethan and Heather were no different.
"I have the most absurd urge to ask you to promise me you won't go out after dark anymore."

"Um…"

"I know. It's totally unreasonable."
For those of you who are already fans of the series, Ethan's story does not disappoint; it was an excellent continuation of the saga. There are a lot of lighthearted elements that reminded me of Roland and Sarah's story in Darkness Dawns, as well as a ton of action and the introduction of even more key characters. We get to know Aidan a lot more and we revisit a bunch of old favorites. And of course, there's baby Adira – not to mention all of our favorite Immortal Guardians doting on her.
A quick note about Aidan: I totally fell in love with him in this book. His loneliness in heart-wrenching, yet he opens himself up to the North Carolina team and even little Adira, protecting them with everything he has. My favorite scene, despite this being Ethan & Heather's show, was Aiden's teleportation chase.
Okay, time for my one persistent pet peeve with this series: each character's apparent love of using the term "buttload," or any variation thereof. I've turned my frustration with this into a game to see how many times I can spot the phrase. It seems to be helping. Maybe. This book's buttload counter: 5
Even with the counter at 5, I love this series. I'm eager for the story continue, and I'm crossing my fingers that Aidan will be our next hero (though I have to say, I find Jared quite intriguing, too!). And hey, neither character has used "buttload" yet, so there's hope that the count will be lower for their own features 😉
(This ARC was provided through Net Galley for an honest review.)
See my review on Goodreads for Some Particulars, including a steam rating!