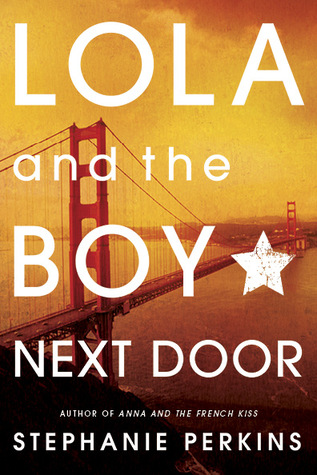 Lola and the Boy Next Door by Stephanie Perkins
My rating: 4.5 of 5 stars
Lola and the Boy Next Door by Stephanie Perkins is the second book in the Anna and the French Kiss series and it follows Lola, Anna & Etienne's coworker and friend in San Francisco. In this story, Lola reconnects with her first love, Cricket, after he and his twin sister move back into the house next door.
(Before I dive into this review, I should probably admit that I happily gave this book a whole extra star because of how much I loved Cricket. No regrets…)
Just because something isn't practical doesn't mean it's not worth creating. Sometimes beauty and real-life magic are enough.
Lola: Lola is an awesome character. She's spunky, unique, and full of life, as well as burdened by a host of challenges, some common and some not so common. Two bits that I especially loved are: her personal goal to never wear the same costumed outfit twice and her rant regarding the nickname "Lolita" (fellow Lolita readers may appreciate that one, too).
There's something about blue eyes. The kind of blue that startles you every time they're lifted in your direction. The kind of blue that makes you ache for them to look at you again. Not blue green or blue gray, the blue that's just blue. Cricket has those eyes.
Cricket Graham Bell: What to say about Cricket… He is smart, genuine, loyal, adorable, and absolutely devoted to Lola. While he and Lola have a bit of a turbulent past, they are so well matched. His creative nerdiness and her creative artistry complement each other wonderfully and they understand each other in ways no one else does. Speaking of Cricket's nerdiness, here's the moment when I knew I was a goner:
Rube was famous for drawing those complex machines performing simple tasks. You know, where you pull the string so that the boot kicks over the cup, which releases the ball, which lands in the track, which rolls onto the teeter-totter, which releases the hammer that turns off your light switch? That was Cricket's bedroom.
Despite liking Lola and LOVING Cricket, I didn't enjoy their story quite as much as I did Anna and Etienne's, though it was close. I think it was missing some of the magic of Anna and the French Kiss, or maybe it was that they were so similar in story structure. I can't seem to put my finger on it. That being said, Perkins' ability to empathize with young love and being seventeen is here in full force. Her writing absolutely whisked me away and I inevitably flew through the book. So much for trying to pace myself…
A quick note about Anna and Etienne's role in this book: Anna and Etienne work with Lola at a San Francisco theater. They pop up frequently throughout the story, and I loved it. Whenever things grew too serious or sad, they would appear, being adorable and happy. I don't want to reference anything specific for fear of spoilers, but as a fan of the first book, I was definitely not disappointed.
I am really excited to read Isla's story in Isla and the Happily Ever After.I'm also hoping that Anna, Etienne, Lola, and Cricket make some appearances in the third and final installment.
See my review on Goodreads for Some Particulars!