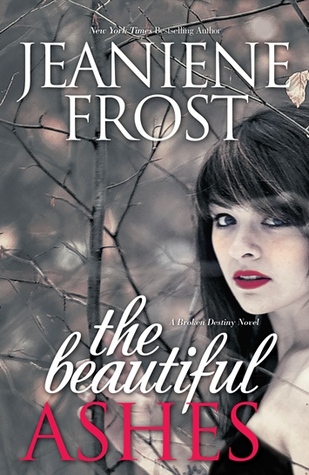 The Beautiful Ashes by Jeaniene Frost
My rating: 4.5 of 5 stars
The Beautiful Ashes by Jeaniene Frost is the first book in Frost's New Adult series, Broken Destiny. This is an angels and demons series that follows Ivy and Adrian, two humans with supernatural gifts that were passed down from their Biblically significant ancestors. To throw a wrench in, they are mystically drawn to each other despite descending from two different lines destined to forsake each other.
I've been excited to read this for a while, being a huge fan of Frost's Night Huntress series. I know a bunch of her fans were put off by the fact that this one's about angels and demons but I happen to like that sub-genre, and I happen to love the wit and style of Frost's writing. I figured, worst case it'll be a quick, fun read. As it turns out, it WAS a quick fun read. Fortunately for me, I also loved the world, characters, and storyline!
Speaking of the world and storyline, there are a lot of angels and demons tropes and cliches out there, as well as quite a bit of variation of where characters fall on the scale of Good vs. Evil. This world falls somewhere in the middle. The demons are definitely evil baddies, there's no question about that, but what about the angels? They're pretty cryptic and seemingly neutral with a hint of good. For Supernatural fans, the angels of this series reminded me a lot of the angels from that one. Ivy and Adrian are working with the angels to stop the demons, but mostly they're working with each other to accomplish their goals and survive being cannon fodder in an ageless war.
Now for a bit about Ivy and Adrian…
He was danger wrapped in secrets tied with a bow of bad intentions, and it was totally unfair that no one had made me feel this way before.

Ivy does remind me a bit of an alternate universe's version of Cat from the Night Huntress series. She is spunky, determined, powerful, and would sacrifice herself in an instant for those she loves. Adrian is pretty much exactly as described in the quote above, as well as powerful, brooding, tortured by his perceived destiny, and with a serious addiction to Ivy. Their chemistry was palpable and it cultivates some serious book boyfriend material for those on the market 😉
This is probably a good time for me to say, WARNING FOR SEMI-CLIFFHANGER! See below for my Cliffhanger Classification Breakdown…
One final note about maturity level: I do agree with others who say this book is somewhere between Young Adult and New Adult, though for me it falls more under the New Adult umbrella. For those wondering about the explicitness of any sexy scenes, the vocabulary and descriptions definitely fit with New Adult (not quite at the level of typical adult romances). See my review on Goodreads for Some Particulars with more info.
I'm really glad I gave this new series a try, and I'm bummed that I have to wait until February for book two! So far my streak of loving Jeaniene Frost's work is holding strong.
***
Cliffhanger Classification Breakdown:

MUST READ NEXT BOOK NOW BECAUSE PLOT: 4 out of 5
SOMETHING HORRIFYING JUST HAPPENED AND I NEED CLOSURE, DAMMIT: 1 out of 5
Final score of cliffhanger pain: 2.5 out of 5
See my review on Goodreads for Some Particulars, including a Steam Rating!