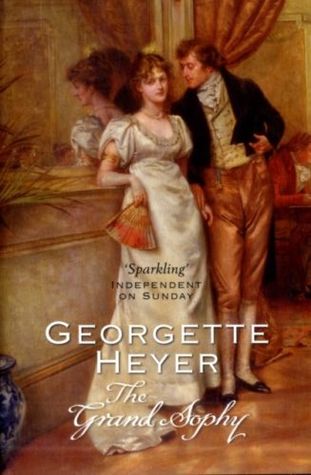 The Grand Sophy by Georgette Heyer
My rating: 4 of 5 stars
The Grand Sophy by Georgette Heyer is a Regency romance and is perhaps one of Heyer's most popular books. It tells the story of a feisty young woman named Sophy, who is the product of an unconventional upbringing and a wonderfully unique personality. Like all of Heyer's Regency romances, the story is funny, over the top, and full of witty dialogue.
If you are a fan of old school Regency romances, romantic comedies with a hefty dose of absurdity, or want a fun way to brush up on your SAT words, I definitely recommend this book.
A Regency Character Summary:

The Grand Sophy: Sophia Stanton-Lacy is our plucky heroine, and she is quite a character! She wishes the best for everyone and seems to believe that it is her duty to turn everyone's troubles to right. Fortunately, she is clever enough to figure out how, in most cases, and in this book she has set her sights on fixing the woes of her Aunt's family. She also has no qualms about setting down those who are quite accustomed to getting their way.
"Now, that," said Sophy, "I am very glad to know, because if ever I should desire to please you I shall know just how to set about it. I daresay I shan't, but one likes to be prepared for any event, however unlikely."

Mr. Charles Rivenhall: While not the patriarch of the Ombersley family, Charles does control the purse strings and has become the dictator over his parents and siblings. He begins the story engaged to an equally oppressive woman, Ms. Wraxton, who brings out all of his worst qualities. Charles' obnoxious manner of ruling the house and his poorly matched engagement are among the trials that our dear Sophy takes it upon herself to fix.
Lord Charlbury: Charlbury is in love with one of the Ombersley daughters, Cecilia, who has unfortunately fallen in love with a young poet. Despite his many virtues, he fell victim to being her family's chosen match for her, as well as a poorly timed case of the mumps that kept him away for several weeks.
Lord Charlbury might be constitutionally incapable of addressing her as Nymph, or of comparing bluebells unfavorably with her eyes, but Lord Charlbury would infallibly provide a cloak for her if the weather were inclement, lift her over obstacles she could well climb without assistance, and in every way convince her that in his eyes she was a precious being whom it was impossible to guard too carefully.

Mr. Augustus Fawnhope: The young poet in question, Augustus is CONSTANTLY working on his verse and is generally oblivious to pretty much everything else going on around him.
'"Lo, as a careful housewife runs to catch One of her feather'd creatures broke away!"'

Miss Eugenia Wraxton: Ms. Wraxton is an infuriatingly abhorrent character, passive aggressively knocking down everyone she dislikes under the guise of behaving as a "proper" young lady should. I pretty much wanted to strangle her the entire story. Sophy, on the other hand, handles her admirably and even manages not to harbor her any ill will (miracle of miracles).
***
I do feel compelled to say that, yes, this story does involve a romance between first cousins. While this happened all the time during this book's historical time period, it's understandable that some are super skeeved out by this given today's standards. I just imagined that they weren't actually blood relatives and was able to put it out of mind.
My one major issue with this book (and the reason I docked an entire star) was the random Jewish moneylender that cropped up in the middle of the book. I know a lot of other reviewers have mentioned this, but I couldn't write my own without addressing it. The character depicts every horrifying Jewish stereotype, and it was disgusting to read. I don't know if this is a product of the Regency Era, the 1950s when this was written, or Heyer's own prejudices. Either way, it was unnecessary, out of place, and severely detracting from the story.
All in all, I really liked the writing and main characters, the story and relationship nuances was hilarious, and the plot was entertaining. While Venetia is still my favorite Heyer, I'm going to keep working my way through the rest of them!
3 of the 9 words I looked up while reading this book:

urbanity – suavity, courteousness and refinement of manner
Nabob – a person of conspicuous wealth or high status
rodomontade – boastful or inflated talk or behavior
Click here to see my review on Goodreads.