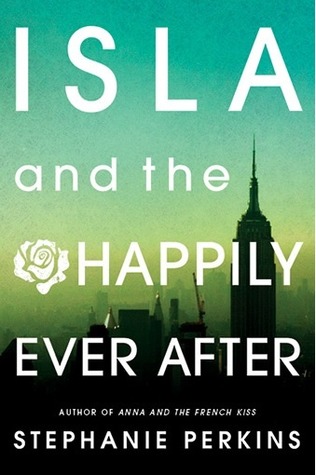 Isla and the Happily Ever After by Stephanie Perkins
My rating: 5 of 5 stars
Isla and the Happily Ever After by Stephanie Perkins is the third and final book of the Anna and the French Kiss trilogy. It follows Isla and Josh back in France for their senior year at the School of America in Paris. It is a roller coaster of a young love story, with really high highs and really low lows. If you're a fan of the first two books, Anna and the French Kiss and Lola and the Boy Next Door, I highly recommend it!
This is one of those stories that is simultaneously emotionally challenging to read and impossible to get through fast enough. Don't start it at the end of the day unless you don't plan on sleeping!
"Oh." My shoulders sag. "You want to draw."
"Yes. You."

That perks me up. I try to hand him a sketchbook, but he refuses it.

"No," he says. "I want to draw on you."
I have to admit, I did get some whiplash from the emotional roller coaster. I could see it coming a mile away just based on my experience reading romances, but it still hit me full force. The manic mix emotions and hormones that go into young love were undeniable and the writing brought back so many of my own experiences that I couldn't help but get swept away. As Isla and Josh spent more and more time together, the quotable moments and happy feels just kept coming. But then, of course, real life and consequences assert themselves with equal force.
And holy COW the romance was intense! Just like the first two books in the series, I found myself reading with a silly grin on my face again and again, but this one was more extreme. Maybe it was because there was nothing to stop them initially; Isla and Josh slammed into each other full force. Maybe it was just because of their personalities, both of them being passionate and deeply-loving introverts. Whatever the reason, this story was personal and consuming. My favorite section, by far, was their trip to Barcelona.
I'm not going to say anything more about the details of the story. In this case, encountering everything firsthand with Isla is such a big part of the experience. And on that note, I am going to end this review with my favorite quote from the book. I know everyone forgets things like this from time to time, and I'm so grateful that I have Isla's story to remind me.
We can't stop smiling at each other. I can't believe that adults get to do this every day. And I don't even mean sex, though it's wonderful, but things like this. Brushing our teeth at the same sink. Do adults realize how lucky they are? Or do they forget that these small moments are actually small miracles? I don't want to ever forget.
I hope I get to read a lot more from Stephanie Perkins in the future, but even if she never writes another thing, I will always be grateful for this series.
PS – For those curious about Anna, Etienne, Lola, and Cricket's presence in the book, it's there, but not nearly as much as in the last book. It's an appropriate amount, though, given the themes and emotional atmosphere of the story.
See my review on Goodreads for Some Particulars, including a swoon rating!