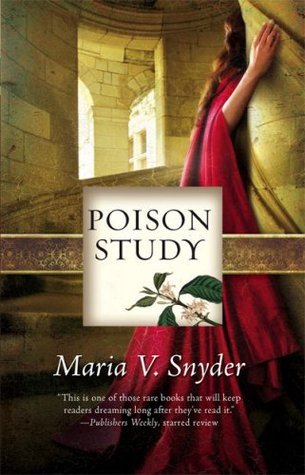 Poison Study by Maria V. Snyder
My rating: 5 of 5 stars
Poison Study by Maria V. Snyder is the first book in the YA fantasy series Study. It tells the story of Yelena, a young woman who was sentenced to death as punishment for murder. As luck would have it, she's offered a position as the poison taster instead, allowing her to live out an uncertain number of days while she searches for a way to take her life back into her own hands.
I loved this book 😀 It was recommended to me by a friend months ago and I finally got around to it. Of course, now I'm wishing I'd read it a whole lot sooner. I think what I love the most about this story boils down to its complexity – that of the world, the politics, the characters, and the plot. I was really impressed that Snyder was able to achieve all of this, along with a writing style that moved the story along in a way that kept me from feeling bogged down by details. She focused on the elements that are essential to the experience, and skipped over the extraneous bits. There are no 50 page walking scenes here.
Because of the complex-yet-pertinent style, this is a really approachable book for anyone wary of heavy fantasy stories. If you are new to the genre, or generally avoid epic fantasy due to all of the "walking," I highly recommend giving this one a try.
I actually don't want to go into too many other details, because watching the story unfold is part of the magic, but I would like to say that I really liked Yelena and Valek, both as characters and as a couple. This is a point of contention for some reviewers, but I thought that their relationship progressed quite naturally given the setting. I also feel like they are well-matched, both in intellect and maturity, despite Valek being a decade or so older. Besides, who doesn't love a master spy? 😉
He was right, I didn't need him but I wanted him to be with me forever.

Definitely time to move on to book two, Magic Study! I'm excited to see how the story continues to unfold, and even when the book is done, this is one of those worlds that you just aren't ready to leave yet.
See my review on Goodreads for Some Particulars.