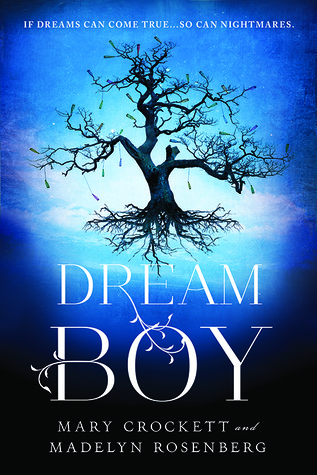 Dream Boy by Mary Crockett and Madelyn Rosenberg
My rating: 3 of 5 stars
Dream Boy by Mary Crockett and Madelyn Rosenberg is a paranormal/fantasy, young adult, standalone novel. It tells the story of Annabelle Manning, a Dreamer whose vivid dreams have started becoming reality. The story also has a fair amount of romance and some horror, but to me, this is essentially a coming of age story.
"You know, when we were kids, anything seemed possible. That's what everyone told us: we could be whatever we wanted. If we could dream it, we could be it, right? But we had to grow up first. We had to do what they told us to, read what they told us to, think what they told us to. So we go along, doing, and reading, and thinking, just like they said. And every year that we get bigger, the world gets smaller. Until all those things we've been telling ourselves were possible–all the things we've been thinking were maybe already happening–they don't even make a blip on the radar anymore."

Annabelle lives in a small, quiet town, full of people she's known all her life. She goes to a typical high school with all of the typical cliques. She has a handful of wonderful, quirky friends, including Will, her encyclopedic, snarky best friend. She doesn't see anything unique or special about herself, but of course, she has that in abundance. As The Dreamer, she has the power to bring dreams to life. Too bad she wasn't aware of this role until too late.
This YA "coming of age" story has an interesting mix of paranormal fantasy, romance, and horror elements thrown in:
Regarding the paranormal fantasy, I loved the concept of dreams coming to life, especially because Annabelle was completely in the dark as the story got rolling. I'm sure there are other stories along these lines, but this was a first for me and it was definitely my favorite aspect of the book.
Regarding the romance, I felt it was very light. While Annabelle does have several romantic moments throughout the story, there isn't much build up or romantic growth. At any given point, she is either in a relationship or she isn't. While this didn't detract from my enjoyment of the story, it didn't really add to it, either.
Regarding the horror, there are some creepy nightmarish scenes, but not enough to put this story fully under the horror umbrella. (Though beware if you have a snake phobia.) As a reader who loves suspense but generally avoids horror, I thought this aspect of the story added some enjoyable depth to the novel.
To tie these elements together, the writing style kept the story moving along at a good pace, and there was an abundance of teenage snark to keep me entertained in between the action scenes. My biggest complaint is that the ending was really abrupt. I suddenly found myself at the end of the last page with a look of confusion on my face and feeling sad that I wouldn't get more of a wind-down.
In the end, all of this added up to a 3-Star rating for me. (It would have been an easy 4-star if not for the abrupt ending.) I would definitely be interested in reading more from Crockett and Rosenberg if they were to write more in the YA genre.
See my review on Goodreads for Some Particulars.