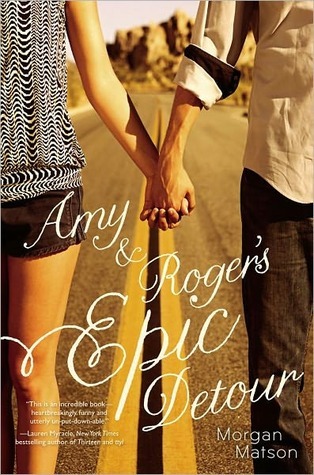 Amy and Roger's Epic Detour by Morgan Matson
My rating: 4.5 of 5 stars
Amy and Roger's Epic Detour by Morgan Matson is a young adult, contemporary fiction, standalone novel about a cross-country road trip. Amy and Roger, the two road trippers, are each dealing with their own emotional turmoil, and we experience the trip from Amy's perspective as she copes with the recent death of her father. Her mother has charged her with bringing the family car from California to their new home in Connecticut and Roger is a family acquaintance who tags along as driver and companion on his way to Philadelphia.
I've seen some readers tag this book as "realistic fiction" and I really like that description for this story. The writing style and pacing of their adventure brings back memories of my own cross-country trip, as well as those of times in my life when I looked around and thought, "how on earth did I get here?"
While I have never experienced grief of the same magnitude as Amy's, the weight of it was palpable throughout the story. Reading from her perspective, she was just trying to cope with all of the mind-numbing sadness and changes in her life. As the story progressed, I could see how each leg of the journey was essential to her well-being. It was wonderful to experience that with her, especially as she began to feel moments of joy again.
"The best discoveries always happened to the people who weren't looking for them. Columbus and America. Pinzon, who stumbled on Brazil while looking for the West Indies. Stanley happening on Victoria Falls. And you. Amy Curry, when I was least expecting her."

The relationship between Amy and Roger also fits pretty well under the "realistic fiction" banner, with plenty of hesitant, awkward moments and a camaraderie born of spending hours and hours on the road together. As the trip went on and they kept supporting each other in their respective quests, it felt right for them to discover more between themselves. This definitely isn't an "instalove" story, and I wouldn't call it swoony, either, but it is very, very sweet. Amy and Roger's Epic Detour is all about adventure, growth, and discovery, including the romantic elements.
I really enjoyed this one, and I wouldn't hesitate to pick up more from Matson in the future. This was a great addition to my summer reading this year.
(Special thanks to Emily over at The Little Book Affair for posting and recommending this book in her Summertime Madness book tag last month!)
See my review on Goodreads for Some Particulars.