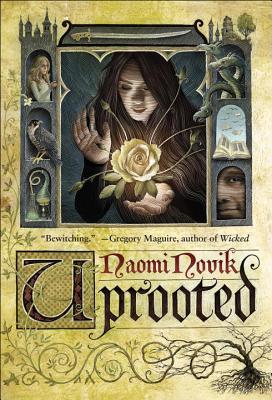 Uprooted by Naomi Novik
My rating: 5 of 5 stars
Uprooted is a standalone fantasy novel by Naomi Novik. It tells the story of Agnieszka and her valley, living in the shadow of the Wood and relying on a wizard to keep its corruption at bay. I wouldn't exactly call this a young adult novel, simply because I think it is equally accessible to everyone.
I always have the hardest time writing reviews for books I've loved, and this is definitely one of those. Finding the words to describe all of the aspects I most enjoyed seems like such a daunting task, and I'm always tempted to write, "Just read it, because of all the reasons!!" and leave it at that. So keeping this in mind, please bear with me while I try to express these so-called reasons a little more thoroughly.
The setting took my breath away. There was just enough descriptive detail to breathe life into the valley without overwhelming the reader with landscapes, and with Agnieszka as the narrator, understanding her connection to her home was so simple. As an integral part of this setting, the Wood was a fantastic villain! I loved that the antagonist of the story isn't an evil wizard or power-hungry king – it is a corrupted Wood that is both natural and personified.
"I'm not stupid, nor a liar," I said, "and if I can't do any good, I can at least do something."

Throughout the story, Agnieszka is not perfect, and she downright fails at many things, but she is amazing. She faces each new calamity the best way she can, drawing on the wisdom and intuition that comes from her childhood roots in the valley, regardless of whether she has the support of others. I also loved the contrasts between her and the Dragon, the valley's lord and magician. Where he reveres order, perfection, and precision, Agnieszka only knows instinct and improvisation. This balance set the stage for hysterical interactions, a lot of magical growing pains, and a seemingly unstoppable partnership once they learn to work together.
Magic was singing in me, through me; I felt the murmur of his power singing back that same song.

Lastly, there is so much story in these 435 pages! I never felt like the adventure was dragging or went on too long, but it did feel like I was reading a much larger book. The plot development and growing excitement kept me reading at a good pace.
One final note for anyone looking for a couple of concrete comparisons: While this story was completely its own, the representation of nature and Agnieszka's central role in returning balance reminded me of several of my favorite Hayao Miyazaki movies (think Nausicaä of the Valley of the Wind with a little Howl's Moving Castle and Princess Mononoke thrown in).
As I said, I adored this book, and I will definitely be reading it again (and again). I'm also excited to read more from Naomi Novik, particularly her Temeraire series. Hooray for new book loves!