In the wake of a crazy new university term beginning, I've found that my review-writing time has been magically transformed into study time. I'm still reading, though, and I want to keep writing about these crazy books, so I'm going to try something new: The Minute Review. My goal is for these mini reviews to be quick and fun to write, but still informative for anyone looking for some new additions to their TBR.
The Anatomy of a Minute Review:
Book cover with Goodreads links
My star rating (0-5)
One quote
One descriptive sentence
One recommendation
Without further ado, here are my first two minute reviews, for books 1 and 2 in Sarah Fine's Guards of the Shadowlands trilogy.
***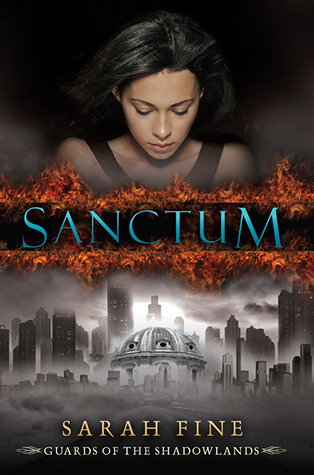 Sanctum by Sarah Fine (Guards of the Shadowlands, Book 1)
My rating: 4 of 5 stars
"Figures. The first time a guy tells me I'm beautiful, I'm in hell and he's delirious."
Bravely diving into the issues of suicide and the afterlife, Fine creates a fascinatingly dark world and cast of characters (and a LOT of self-sacrificing love).
Recommendation: Read this if you loved The Mortal Instruments or Vampire Academy!
Fractured by Sarah Fine (Guards of the Shadowlands, Book 2)
My rating: 3 of 5 stars

"And in the meantime, I have to save the world and be home by ten."
This one is rife with middle book syndrome, but I still couldn't put it down!
Recommendation: Read this is you enjoy the gory, romantic agony of preppy high school seniors by day and vigilante warriors by night.