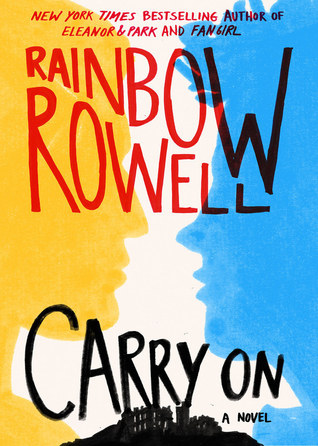 Carry On by Rainbow Rowell
My rating: 5 of 5 stars
I am going to die kissing Simon Snow. Aleister Crowley, I'm living a charmed life. – Baz
Of all the things I was most excited about after finishing Fangirl a few weeks ago, the release of Carry On was at the top of the list. Now I have the supreme joy of reviewing it (then maybe starting it again from chapter one).
At first I wasn't sure what to expect since Carry On takes place over the course of Simon Snow's 8th year in magic school, with at least 7 years of back story that need to be incorporated without boring or confusing the reader. It only took me a couple of chapters to realize that this wasn't going to be a problem – Rowell did an amazing job of quickly building the world, magic system, and relationships.
I don't want to go too far into the plot, because discovering that is part of the story's charm, but I do want to say a few words about the romance. I loved the dynamic between Simon and Baz. It was everything I hoped for, especially concerning Baz. I know some readers wished that there had been more romance time, but considering they begin the book as mortal enemies, it seemed completely reasonable that their relationship would need time to evolve. Besides, the romantic bits that were included were fabulous.
I'll finish this off with one final note: you don't need to have read or enjoyed Fangirl to read and enjoy this book. It is completely self contained – just know that it's a bit of a parody of both Harry Potter and fanfiction.
Recommendation: If you love Harry Potter, wizard schools in general, pop culture references, British slang, Rainbow Rowell, and/or adorably quirky romances, YOU NEED TO READ THIS!