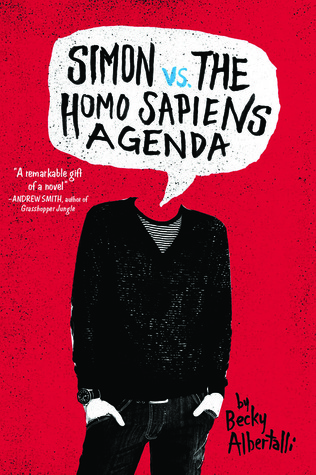 Simon vs. the Homo Sapiens Agenda by Becky Albertalli
My Rating: 5 of 5 stars
But I'm tired of coming out. All I ever do is come out. I try not to change, but I keep changing, in all these tiny ways. I get a girlfriend. I have a beer. And every freaking time, I have to reintroduce myself to the universe all over again.
I loved this book so much, and in ways that I find really difficult to articulate. The writing is charismatic, snarky, and just plain fun to read, and while the story is largely about Simon falling in love and coming out to the world, its themes are astonishingly universal.
And there are way too many great quotes to just include two…
I love the way you smile like you don't realize you're doing it. I love your perpetual bed head. I love the way you hold eye contact a moment longer than you need to. And I love your moon-gray eyes. So if you think I'm not attracted to you, Simon, you're crazy.
Recommendation: Read this if you liked Carry On by Rainbow Rowell, because they have so many great qualities in common! If you have no idea what I'm talking about, you should read Carry On, too! 😉