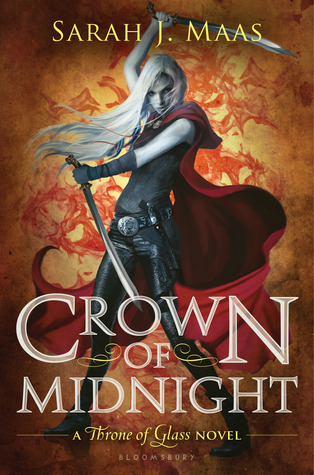 Crown of Midnight by Sarah J. Maas (Throne of Glass, Book 2)
My Rating: 4.5 of 5 stars
(Spoiler Free!)
"Enough! We have enough enemies as it is! There are worse things out there to face!"

Celaena slowly turned to him, her face splattered with blood and eyes blazing bright. "No, there aren't," she said. "Because I'm here now."
I am so overwhelmed by this book! I don't know if it's because this is part of a series and not a trilogy, or if it's just due to Maas's wonderful storytelling, but Crown of Midnight doesn't have even a single trace of Middle Book Syndrome. Even though the story achieves everything that a middle book must fight to achieve (world building, character building, and plot advancement without an actual finale), this doesn't read like filler–it reads like an essential and exciting part of the journey.
Here are some of the aspects that I loved: getting to witness Celaena as an assassin, SO much more action than in Book 1 (TOG), the explosion of culture building, learning about Celaena's backstory, getting to know Chaol (though I STILL have no idea how to pronounce his name), and more unveiling of the king's evil plots. And when The Horrible Thing happened, it completely sucker punched me, even though I knew it was coming. I actually had to put the book down for a day before picking it up again and racing through the rest of the story.
The one element I could have done without was the romance-related anxiety of the characters, specifically when it was not part of the main plot. To be extra clear, I'm NOT talking about the main romantic developments of the story, just the side stuff! While this story somehow avoids having a blatant triangle, there are several moments of internally expressed jealousy and/or heartache on the side. There is so much amazing plot happening here (both romantic and otherwise) that I found those moments distracting. They pulled me out of the badass fantasy and made me sad for all of these characters that I love.
As it is, though, I don't expect this to go away any time soon, so I'm trying to cope by sticking with the mantra from my review of TOG: I am team Celaena all the way! Regardless of any romantic ties Mass makes and breaks along the way, this is Celaena's story, and I'm just going to keep rooting for her to come out on top!
As I've said, this is an excellent sequel, and many others have said they liked it even better than TOG. I love this series on the whole, and I can't wait to pick up Heir of Fire to see where Celaena will go from here 😀