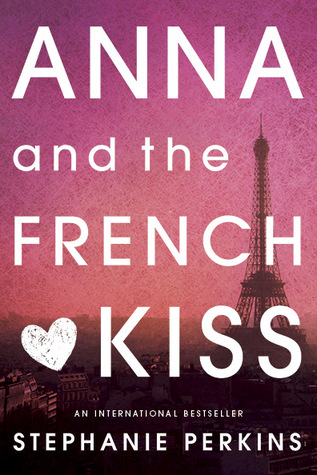 Anna and the French Kiss by Stephanie Perkins
My rating: 5 of 5 stars
Anna and the French Kiss by Stephanie Perkins is the story of Anna Oliphant and her senior year at a new boarding school, the School of America in Paris. She was sent there by her father against her wishes, but she soon finds way more than she expected in her new friends, the culture of Paris, and Etienne St. Clair – the American boy with a London accent and a French home.
This is home. The two of us.
I held off on reading this for a while because of all the hype (at least within the YA world). I have a tendency to do that with books I have a feeling I will love. It probably has something to do with being a little wary of investing all of the book feels and wanting to savor the anticipation of discovering a new literary love. There's always the fear that the hyped book won't live up to the scrutiny; I am so glad that Anna and the French Kiss did.
This is primarily a relationship story, focusing on friendship, romance, family, and self-care. The whole story is told from Anna's point of view, with her fears, wit, enthusiasm, and growth taking center stage. Anna is a marvelous narrator. She is driven and smart, and doing everything she can to do the right thing for herself and her friends. There were moments where she faced impossible decisions, and I felt for her every step of the way.
"Listen carefully and repeat after me. Granola." I narrow my eyes as he widens his in mock innocence. "Means 'granola,' you see. And this one? Yaourt?"

"Gee, I dunno. Yogurt?"

"A natural! You say you've never lived in France before?"

"Har. Bloody. Har."

He smiles. "Oh, I see. Known me less than a day and teasing me about my accent. What's next? Care to discuss the state of my hear? My height? My trousers?"

Trousers. Honestly.
Etienne is a wonderfully intriguing character. His chemistry with Anna was absolutely undeniable and I'm convinced I spent at least 50% of this novel with a giant grin on my face. I loved that he was as equally invested in friendships and as flawed as Anna. I have to say, if they ever make this into a movie, I feel for the actor whose hair and charm has to live up to Etienne's.
I only have a few weeks left in Paris, and I still haven't been inside of Notre-Dame. What am I doing in the dormitory on a Saturday afternoon? I yank on my shoes, run out of the building, and race down the boulevards at the speed of sound. I can't get there fast enough. I have to be there. Now. I can't explain it.
This desperate feeling and the immediate urge to act is one that I remember well from my teenage years, and I still feel it now from time to time. It's just part of human nature, especially during emotionally heavy times. I loved that Perkins was able to write this story in such a way that I was with Anna at every step, and felt my own story while reading hers. That ability is one that has always amazed me in talented YA authors.
As it turns out, Anna and the French Kiss is actually the first book in a trilogy, though each book features a different couple. I'm excited to continue on with Lola and the Boy Next Door. Even if the only good element is more time with Anna and Etienne as side characters, the read will be well worth it.
See my review on Goodreads for Some Particulars